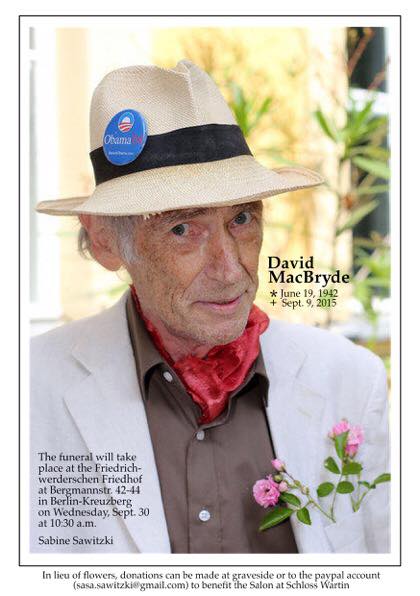 David MacBryde, long an active member of DA, died of pancreatic cancer on Wednesday, September 9. His widow Sabine has sent this invitation to David's funeral on Wednesday September 30, at 10:30 in the morning in the chapel of the Friedrichwerderschen Friedhof, Bergmannsgtr. 42-44 in Kreuzberg.
The next day, Thursday, October 1 at 20:00 American Voices Abroad will dedicate its regular Stammtisch to David – we'll look at photos and reminisce. All friends of David are welcome. The AVA-Berlin  Stammtisch meets at Café X-Zeit at Welserstr. 10-12 10777 Berlin.
---
Eulogy for David MacBryde by Michael Steltzer on behalf of Democrats Abroad Berlin spoken in German at his funeral on September 30th, 2015
My dear friend David
We have known each other for the past 14 years through "Democrats Abroad" in Berlin, the organization of American Democrats living abroad. A close friendship has developed out of that relationship. It results were many common projects that we developed and followed through on.
One of the ideas was to create a large eye-catching kite for the reelection of President Barack Obama. This kite was designed, sewn and assembled by you, your dear Sabine and myself. Not only was it displayed and flown in Berlin but also in Washington DC above the Capitol building of the US Congress.
Another project was our visit to the festivities of the 50th anniversary of the "Port Huron Statement" in Ann Arbor, Michigan, USA in 2012. This was one of the most progressive documents of the American student movement of the 1960s. Encountering and talking to the leaders of this significant movement gave us additional energy for the development of active and participatory democracy.
For the last 8 years I've seen you as probably the most dedicated supporter of Barack Obama in Berlin. Yes, it became part of your image – your leather Texan hat and a big blue Obama button on it – a true Macbryde brand. The button had transformed itself from an "Impeach Bush" button. The 220,000 thrilled Obama supporters who came to see his moving speech at the Berliner Siegessäule on the 24th of July 2008 had lost some of their enthusiasm after 4 years. But you continue to wear your Obama button in spite of the fact that some of our progressive and democratic friends have long since become skeptical and even apathetic. You have remained faithful to our president, always giving him the benefit of the doubt.
But you do that in a way that you never reprimand your fellow debater. You try to include them in your arguments and radiate a positive energy while doing so. You always listen with two very attentive ears and speak only with one mouth. And your convictions are consistently expressed in positive deeds; they are never scolding or judgmental.
Your fellow Democrats in Berlin, whose life you are a part of, will miss you very much:
We miss your friendly smiles and whole-hearted laughter.
We miss your progressive ideas and questioning thoughts.
We miss your dedication, your calm and your continuity.
We miss your wisdom and your friendship.
Because you really are our friend and fellow Democrat